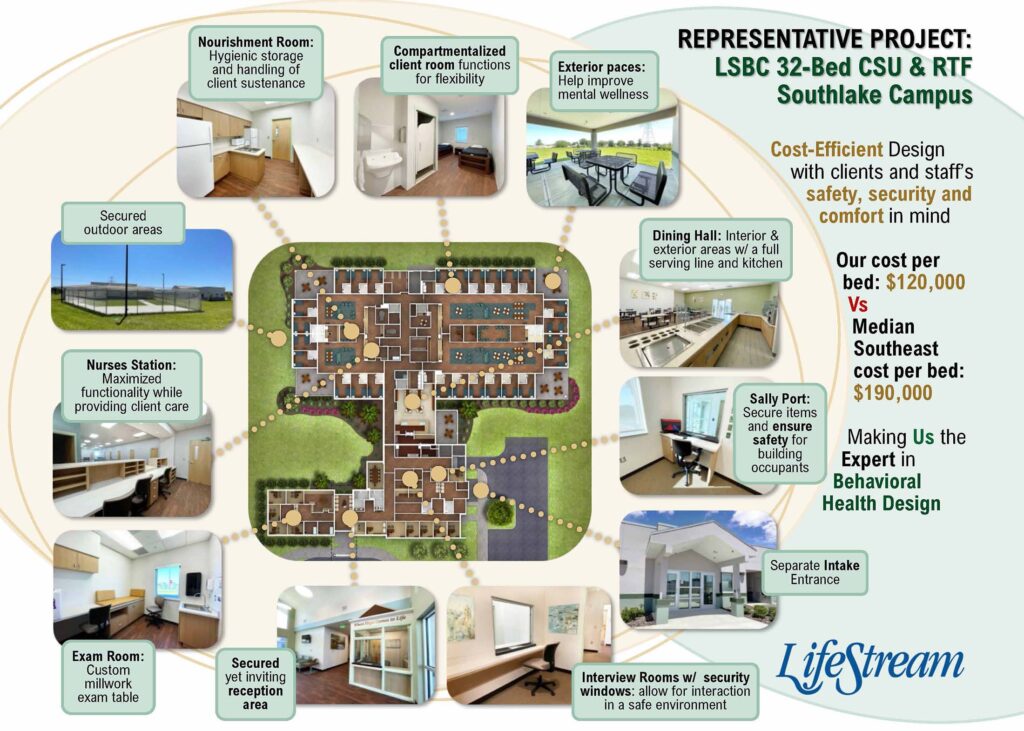 Budget constraints do not have to get in the way of fulfilling the owner's design needs. In the case of behavioral health facilities, these considerations also include safety, security, and comfort for both patients and staff. As shown in the above case study, through many design collaboration meetings with the owner, our team was able to meet their goals and objective for the facility and stay within budget.
ANTI-LIGATURE AND SAFETY EXPERTISE
Designing behavioral health facilities presents many unique challenges. Every corner of client-accessible areas must meet ligature and tamper-resistant standards to ensure the clients' safety at all times. The Shumake Architecture team is well-versed in the standards required to design safe and secure facilities, and the firm has extensive experience following the standards set forth in the "Behavioral Health Design Guide." Our 16 years of experience in designing behavioral health facilities demonstrates our ability to meet and solve their distinct challenges. We keep ourselves informed and updated on the constantly evolving developments in behavioral health safety so we can incorporate them into our designs.
---
REPRESENTATIVE BEHAVIORAL HEALTH PROJECTS:
LifeStream Behavioral Center
– 52-Bed CSU & RTF – South Lake Campus, Clermont FL
– Hope and Recovery Center, Leesburg FL
– The Anthony House, Mt. Dora FL
– Eustis Outpatient Clinic, Eustis FL
– LAKE Academy; CCOS Program, Leesburg FL
– LAKE Academy and Children's Development Center, Eustis FL
– Southlake Outpatient Clinic, Clermont FL
– Webster Street Center, Leesburg FL
– Hope House, Eustis FL
– Hope Springs Villas, Leesburg FL
– Open Door Center, Eustis FL
Centerstone of Florida
– Crisis Center
– Psychiatric Unit Expansion
---
Share this page!